This package set could get big brands VERY WORRIED!
- Rick Shiels
Free Shipping*
Risk Free Trial
Free Returns*
Includes:
Driver

x1

Wood (5w)

x1

Hybrid (4h)

x1

Irons (5i, 7i, 9i, PW)

x4

Wedge (SW 56°)

x1

Putter

x1
Get an essential set of Stix in your bag: the 9 clubs you need for casual on and off-course play. Perfect for beginners and weekend warriors.

Each sleek club is a joy to swing — smooth and consistent, for a comfortable, controlled stroke.

Built solid, these Stix clubs are made with the very same premium materials you'll find in kits 3x the price.

Because unless you're Tiger Woods, a crazy-expensive pro kit will not change your game. Stix are for the rest of us — golf lovers who just want to swing stronger, hit further, and love the way the clubs feel.

The Casual Set features irons and wedges with a finish that provides an extremely high level of durability and scratch resistance to keep your clubs looking sharp.

Which flex should I choose?

Generally speaking, the more flexible the shaft, the easier it is to properly load the shaft. What this means is that the shaft of the club will bend a little more during the swing to help compensate for slower swing speeds and inconsistent swings. This minimizes the difference in ball trajectory on less than ideal swings. The stiffer shaft flexes are just more exact to a golfer's swing. Because of these reasons, softer flexes (Regular and Active flex) are suggested for people newer to golf or lack the strength to get higher swing speeds. This is the technical side of the equation though!

Flex is also about how they feel! For instance, some newer golfers may find stiffer flexes more comfortable for their swing and prefer to get accommodated to them as they improve their golf game. It just depends on the individual golfer's build and their swing style.  The right flex for the individual will lead to increased accuracy and a better feel on properly hit shots.

Don't be too anxious about your decision though! We have a 30 day trial period where our customers can try out the clubs to see if they are the right fit for them! The 30 days starts once you receive the clubs. If the flex doesn't feel right, contact us and get the clubs in the mail in 30 days and we can exchange them for a set that has a better flex for you.

Described as "beautiful, minimalist, modern", each iron is stunningly designed with a black finish that provides enhanced durability and scratch-resistance.
Stix clubs deliver quality and performance on par with the big brands — without the premium markup.
Spend less time in the golf tech weeds and more time on the course with simple kit configuration.

Get free shipping on orders over $100 delivered within the continental US.

All other shipping costs are calculated at checkout based on weight, dimensions, and destination.

Test drive Stix clubs, risk-free. If you change your mind, simply return your purchase within 30 days of delivery and get a full refund. Guaranteed.

You have a game to play. We have a brand to uphold — one built on quality and durability. Stix will address any manufacturing defects in your purchase with sportsmanlike fairness.

Read Reviews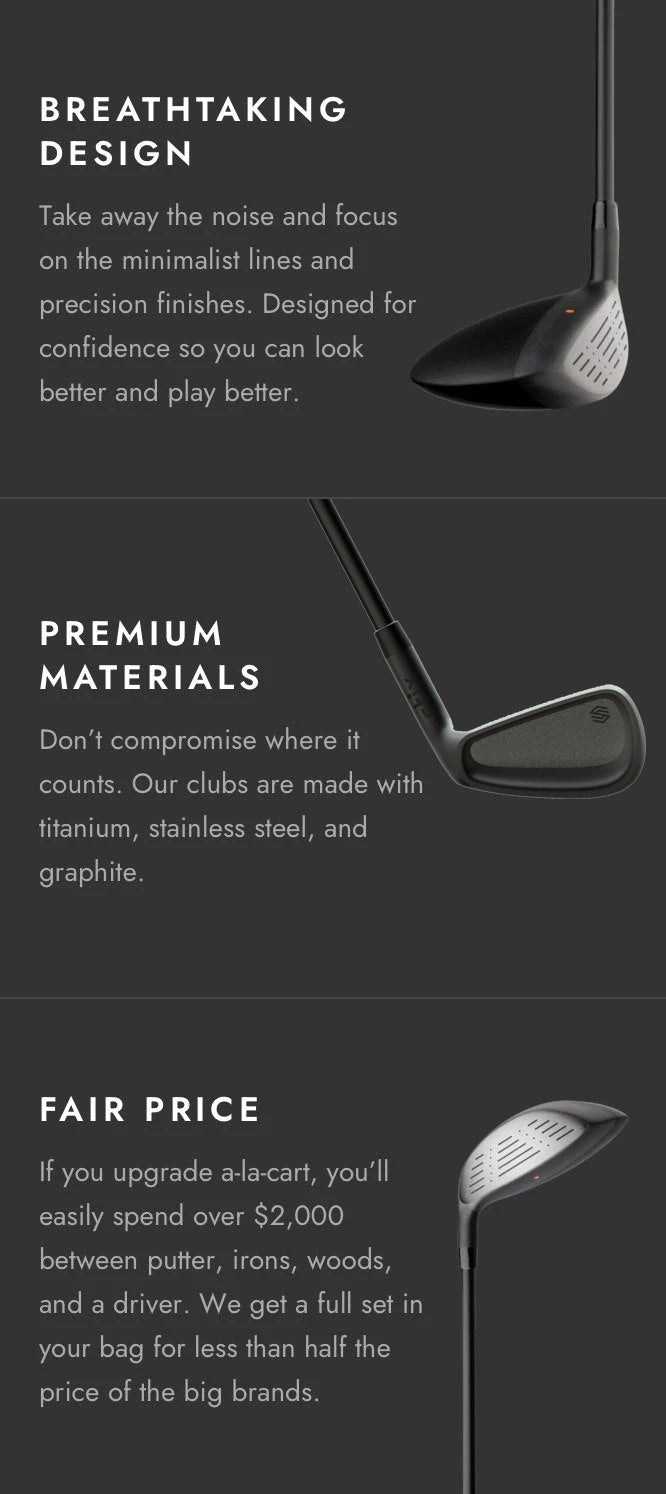 Learn More About Our Clubs
Driver
10.5°, 460cc titanium driver, high-elastic graphite shaft.
A driver's primary purpose is that of distance; Get the ball as far down the fairway as possible. Our driver, like all of our clubs, features stunning black on black, minimalist finishes, but capitalizes on the modern advancements in club making to bring forth a farther and straighter ball flight. When you're ready to grip it and rip it, our driver will give you the kind of confidence that calms the nerves and makes the fairway feel a little wider.
| | |
| --- | --- |
| Loft | 10.5° |
| Length (Standard) | 45" |
| Lie | 60° |
| Head Weight | 196g |
| Shaft Weight | 66g |
| Swing Weight | D1 +/-2 |
Woods
Stainless steel heads, high-elastic graphite shaft
Our fairway woods make those really long approach shots feel a little shorter. We added just enough loft to help you get it up in the air easier and straighter but not lose distance by utilizing a lighter and smarter shaft design to naturally increase swing speed. We can help you make that hard to reach Green in Regulation when you need it most.
| Detail | 5w | 3w |
| --- | --- | --- |
| Loft | 19° | 16° |
| Length (Standard) | 42" | 43" |
| Lie | 59° | 60° |
| Head Weight | 220g | 212g |
| Swing Weight | 66g | 66g |
| Swing Weight | D1 +/-2 | D1 +/-2 |
Hybrid
Stainless steel head, high-elastic graphite shaft
Our 21 degree, 4 hybrid gives you the assurance you've long sought after whether you're on the tee box or deep in the fescue. Designed for distance while providing the forgiveness of a lofted Iron, you'll feel right at home on the first swing. High and far is the name of the game here.
| | |
| --- | --- |
| Loft | 21° |
| Length (Standard) | 40" |
| Lie | 59.5° |
| Head Weight | 234g |
| Shaft Weight | 66g |
| Swing Weight | D1 +/-2 |
Irons
Cavity-back, 64g ultra-light, high-elastic graphite shafts
Our irons have been thoughtfully and masterfully crafted to bring out the best game in the widest range of players. With a massive sweet spot and super hot face, distance and forgiveness are your new golf buddies. Whether you're just hoping the ball will go straight, or taking dead aim on a long par 3, you'll be amazed with the performance and design on all fronts.
| Detail | 5i | 6i | 7i | 8i | 9i | PW |
| --- | --- | --- | --- | --- | --- | --- |
| Loft | 22° | 25° | 28° | 33° | 39° | 45° |
| Length (Standard) | 38" | 37.5" | 37" | 36.5" | 36" | 35.5" |
| Lie | 61° | 61.5° | 62° | 62.5° | 63° | 63.5° |
| Offset | 11mm | 10.5mm | 10mm | 9.5mm | 9mm | 8.5mm |
| Head Weight | 259g | 264g | 272g | 279g | 287g | 294g |
| Shaft Weight | 64g | 64g | 64g | 64g | 64g | 64g |
| Swing Weight | D1 | D1 | D1 | D1 | D1 | D2 |
Wedges
Blade style wedges, milled face, stiff graphite shaft
The shafts on our wedges are graphite and stiff flex. The wedges feature a black finish with an extremely high level of durability and scratch resistance to keep your clubs looking sharp.
| Detail | GW (52°) | SW (56°) | LW (60°) |
| --- | --- | --- | --- |
| Loft | 52° | 56° | 60° |
| Length (Standard) | 35.50" | 35.25" | 35.00" |
| Lie | 64° | 64° | 64° |
| Bounce | 10.5° | 11° | 10° |
| Head Weight | 300g | 300g | 308g |
| Shaft Weight | 57g | 57g | 57g |
| Swing Weight | D3 | D3 | D3 |
Putter
Mallet designed putter with oversized grip
With its sophisticated architecture, optimized performance and breathtaking aesthetics, our expertly designed Mallet putter feels as good as it looks. The large squared grip and milled face give you ultimate control over your putts producing the confidence you've always desired when standing over a knee knocking 4 footer. Make the putt with the Stix putter.
| | |
| --- | --- |
| Loft | 3° |
| Length (Standard) | 34" |
| Lie | 71° |
| Head Weight | 430g |
All around INCREDIBLE
I bought my first clubs about a year ago and have loved them every time i've used them. The grip, weight, hit feel, everything is great. To top it off, I recently needed to replace both my driver and hybrid due to the shaft cracking. Their support team replied back super quick both times and got a replacement headed my way almost instantly, no questions asked. If you have any doubt about Stix, dont. Seriously, all around, I love them
Love em
I love my new clubs. Not only are the super stylish but I really feel like my game has improved.
Hey, Max! Love to hear this. Glad you're digging the clubs and that your game is improving! Hope you see more of that. Appreciate the review!
Best company ever
Great customer service as well as amazing clubs
Hey, Matthew! Pumped to hear this. Thanks for the review!
Wedges
I like the wedges a lot! I feel like you have to hit the 60 surprisingly harder than you'd expect just because the ball travels so high but the 52 is very predictable
Hey, Justin! This is great feedback! I'll make sure we dig into this. Glad you're enjoying the wedges! Thanks for the review.
Great clubs
Preform amazing, look and feel great. Recommend it to anyone I meet on the course
Hey, Jack! Love to hear this. Get some swings in for us. Appreciate the review!