Free Shipping Over $500
Risk Free Trial
Free Returns*
With a higher loft at 33°, our 8 iron is ideal for mid to short-range approach shots - or a bump and run from around the Green. Built with black-on-black minimalist finishes and ultra-light, graphite shafts for enhanced swing speed, this iron is cast from stainless steel with a milled face.

You won't be disappointed with this iron. Give it a spin out on your home course or at the range. If you aren't completely satisfied, return it within 30 days of receiving for a full refund.


Described as "beautiful, minimalist, modern", Stix clubs deliver quality and performance on par with the big brands — without the premium markup.
Spend less time in the golf tech weeds and more time on the course with simple kit configuration.

Get free shipping on orders over $500 delivered within the continental US.

All other shipping costs are calculated at checkout based on weight, dimensions, and destination.

Test drive Stix clubs, risk-free. If you change your mind, simply return your purchase within 30 days of delivery and get a full refund. Guaranteed.

You have a game to play. We have a brand to uphold — one built on quality and durability. Stix will address any manufacturing defects in your purchase with sportsmanlike fairness.

Read Reviews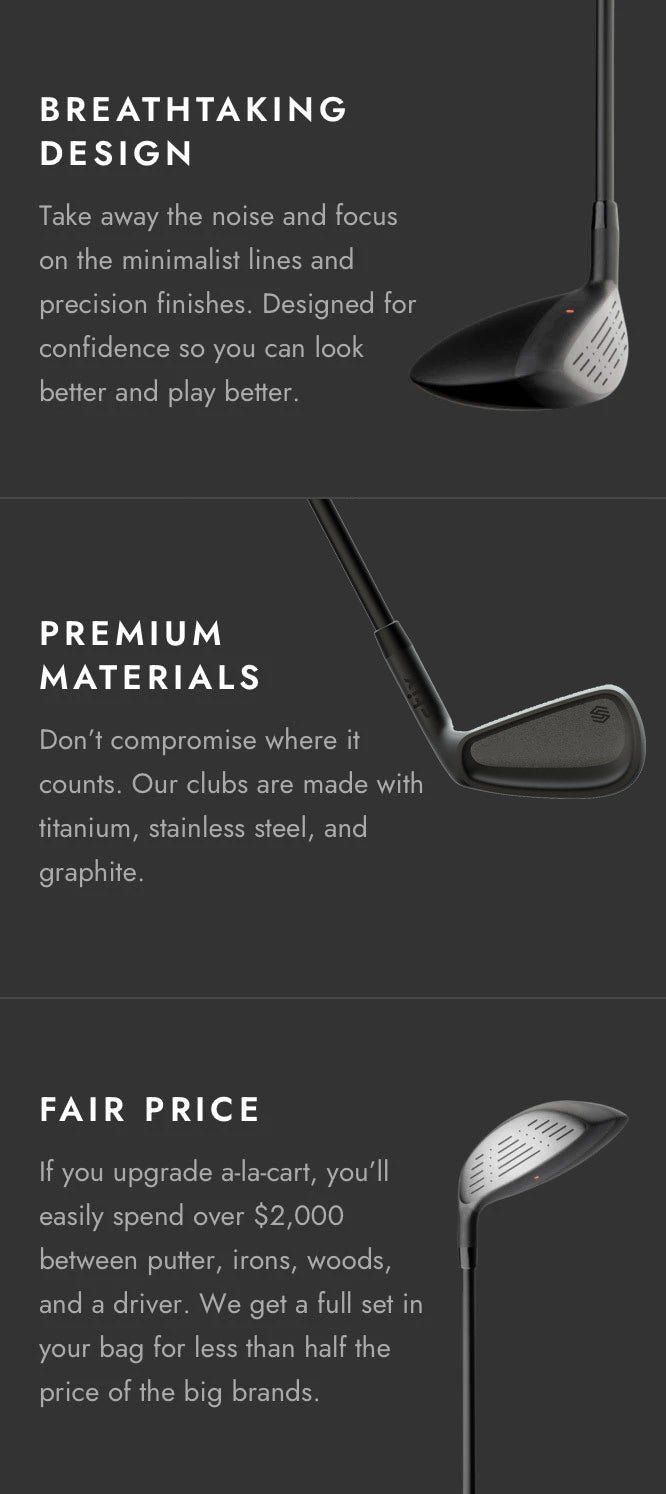 Great Control
Fantastic control of every shot inside 100 yards!
Well Balanced Wedge Set
Love the feel and look of these clubs. Very easy to use with great shot making ability and have certainly improved my short game. The Lob Wedge is the easiest I've used. Also terrific value. Only gave Four stars due to wear on finish but that does not effect shot. Would recommend to any prospective buyer.
Hey, Lawrence! Glad you're digging the clubs and seeing improvement! If you notice any egregious wear on the clubs, give us a shout and we'll take a look at that for ya. Thanks for the review!
GOOD HIT.
They feel good holding the Grip. Good weight, excellent swing movement, good shot. Love the look.!!!
Hey, Davalos! Glad you're enjoying the feel of the clubs! Get some swings in for us. Thanks for the review!
Ggggrrrr
Unable to play with them yet, but going to hit in the morning after work. I have a tournament this coming weekend and need to see how they hit. Love the feel and definitely love the look. Time will tell. Still wishing y'all sold the hybrid separately ☹️
5-PW set
Only got to use them once before the weather turned cold. Got compliments on the looks. Easy to hit. Got my distance back that I had lost. Really look forward to Spring.