Free Shipping Over $500
Risk Free Trial
Free Returns*



An Awesome Fairway Wood at an Incredible Price

Our 5 wood makes those really long approach shots feel a little shorter. We added just enough loft to help you get it up in the air easier and straighter but not lose distance by utilizing a lighter and smarter shaft design to naturally increase swing speed. We can help you make that hard to reach Green in Regulation when you need it most.

You won't be disappointed with this fairway wood. Give it a spin out on your home course or at the range. If you aren't completely satisfied, return it within 30 days of receiving for a full refund.


Features:


Black-on-black, minimalist finishes

Ultra-light, graphite shafts for increased swing speed

Quality materials like all of the big brands use

The technology you need to hit it far with the look that you will love

Lofted at 

19

°  to help you get the ball in the air

Try it for 30 days and send it back if you don't love it

You don't need to spend $200+ on a club to get great performance




Described as "beautiful, minimalist, modern", Stix clubs deliver quality and performance on par with the big brands — without the premium markup.
Spend less time in the golf tech weeds and more time on the course with simple kit configuration.

Get free shipping on orders over $500 delivered within the continental US.

All other shipping costs are calculated at checkout based on weight, dimensions, and destination.

Test drive Stix clubs, risk-free. If you change your mind, simply return your purchase within 30 days of delivery and get a full refund. Guaranteed.

You have a game to play. We have a brand to uphold — one built on quality and durability. Stix will address any manufacturing defects in your purchase with sportsmanlike fairness.

Read Reviews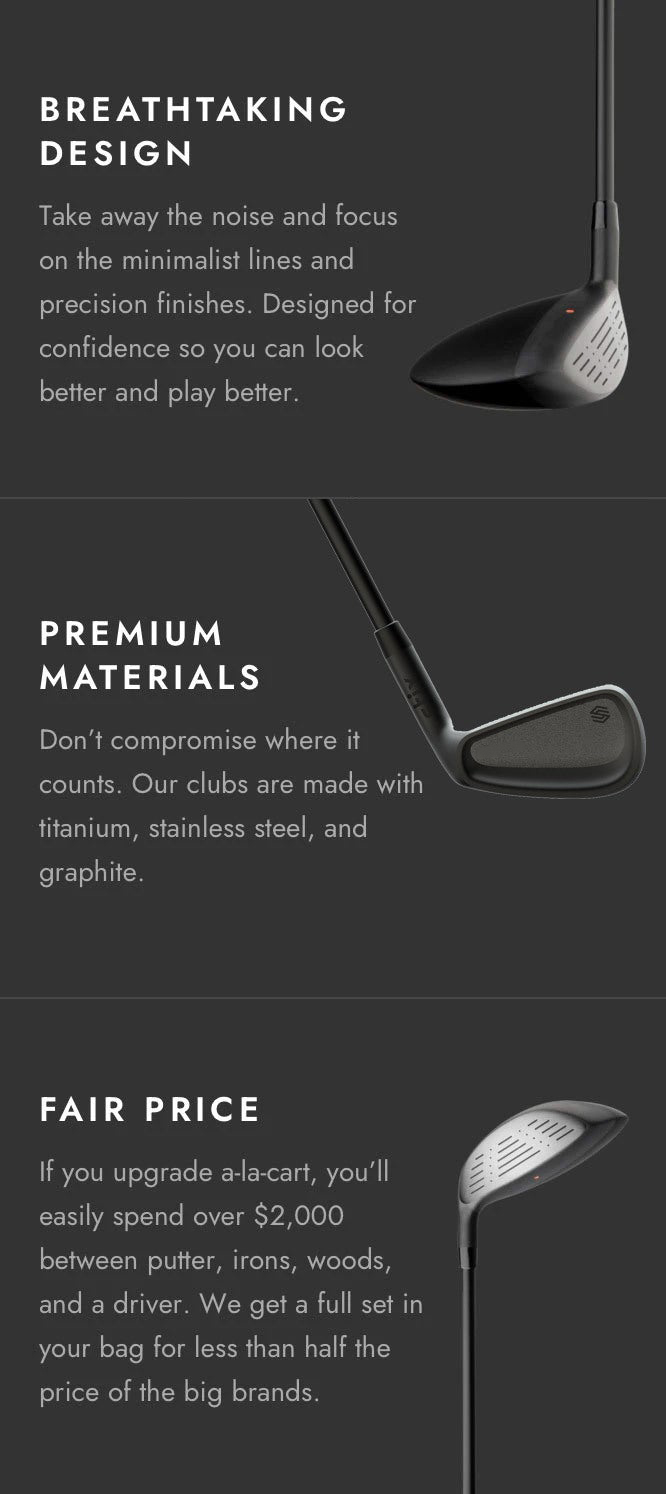 11 piece set
Let me know when a bag is included and I'll order a set!
Clubs keep breaking
I've had these clubs for under a year, never used them heavily through the first half year or so but the past couple months I've been going to the driving range fairly often and have had the head snap off my 7i, 9i and 3W. I have a strong swing but it's controlled enough to the point where 3 snapped clubs seems a little ridiculous in a short time frame. Had enjoyed the clubs at the price point until they started to feel fragile.
Hey, Trevor. Really sorry to hear this. We're constantly taking feedback from those that have bought our clubs and working to improve the experience and address any issues. If you haven't yet, please shoot us an email with the pictures of the clubs. We would love to take a look at this and address the issues you experienced. We appreciate this feedback.
11 set
Is there any way to get the 11 set with silver irons?
Love the Styx
My new clubs were super easy to adapt to and great to hold and look at in my bag. And couldn't be happier with the price. Thank you for the beautiful design.
Hey, Judy! Love to hear this. Glad you're enjoying the clubs! I see you left a 1-star review. If this was by accident, I understand. If you had an issue with the clubs or your experience, please reach out and let us know!
All around INCREDIBLE
I bought my first clubs about a year ago and have loved them every time i've used them. The grip, weight, hit feel, everything is great. To top it off, I recently needed to replace both my driver and hybrid due to the shaft cracking. Their support team replied back super quick both times and got a replacement headed my way almost instantly, no questions asked. If you have any doubt about Stix, dont. Seriously, all around, I love them