As we're all well aware, 2020 has been an interesting year on and off the golf course. Numerous professional golf events have been forced to cancel or move locations. Players have missed events due to positive COVID-19 tests.
With the Masters this week, we're sure to have plenty of new things to discuss when it comes to professional golf, but here are our top pro golfer moments of 2020… so far.
The Incredible Bulk
The most talked about story of 2020 has been Bryson DeChambeau and his quest for distance. DeChambeau has all been a polarizing character on tour with his scientific approach to the game and his unique opinions. Nothing could have prepared us for his decision to gain weight and strength to focus on pure distance.
Via Yahoo!

He has moved to an aggressive, always hit driver, style of play. We must admit that it has worked, as he was victorious at the US Open in September. The success of his new style seems to depend on the course and if nothing else, we should appreciate his willingness to try something different. Next up for the Incredible Bulk? He takes this new method of play to Augusta this week.
Should-He Wear a Hoodie?
If you gave us 1,000 guesses on potential golf controversies in 2020, we never would have come up with "The Hoodie Caper." It all started when Tyrell Hatton won the BMW PGA Championship on the European Tour while wearing a hoodie. For some reason, this made many golf purists upset as they considered it inappropriate attire. Then Rory McIlroy wore one a couple weeks later in the ZOZO championship on the PGA Tour. Can't we all agree we have bigger problems?
Brooks Talks Trash
Brooks Koepka is known for expressing his opinions and he's not afraid to share his honest thoughts about his fellow players. He took it a step further when he went after his "buddy" Dustin Johnson before the final round of the PGA Championship, as reported by Golf Digest.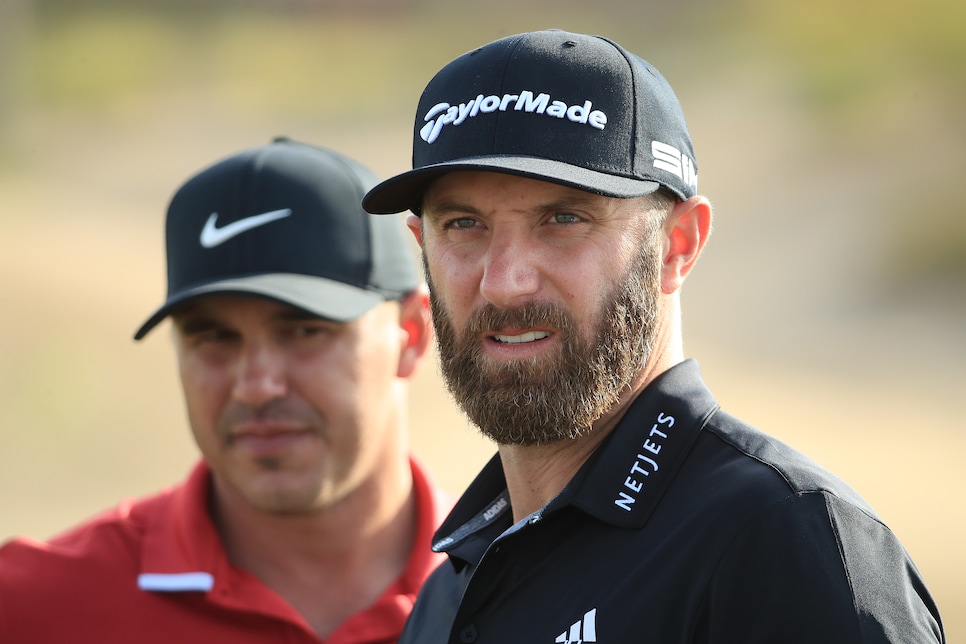 "I like my chances," Koepka said after the third round at TPC Harding Park. "When I've been in this position before, I've capitalized. I don't know, [DJ's] only won one."
"It doesn't matter," Johnson responded. "It doesn't bother me. He can think whatever he wants."
For the record, neither player won (Colin Morikawa took home the trophy), but we can bet Brooks and DJ don't have plans to vacation together in 2021.
Bryson vs. The Ants
You know DeChambeau has had an interesting year when he makes our top moments twice. In a July event at TPC Southwind, Bryson called over an official and asked for relief (a free drop). You are probably thinking he was on the cart part or in ground under repair – you would be wrong.
He was asking for relief under rule 16.2a, which cites "a dangerous animal condition". His ball must have been near an alligator or snake, right? Wrong. He wanted a free drop because he saw a couple ants near his ball. We're not kidding. This really happened.
Sadly, for DeChambeau he was not awarded the free drop, but he did make our list…. again.
November Masters
As mentioned before, the Masters is happening this week in lieu of its regularly scheduled April timing. Is there any other event in golf that is more tied to its time of the year? The Masters is all about April and the azaleas. Is a November Masters going to be about the fall foliage? We all know Augusta National by heart, but how different will it play in the fall? Does this help or hurt Tiger's defense? We will have our answers soon!
We have no idea what moments will make our favorites in 2021, but somehow, we suspect Bryson will be involved. Have fun out there.